We drive to Lake Amboseli. After about two hours on the track we arrive at a park gate. We put our feet down. The guard comes towards us and we greet him. He immediately informs us that motorbikes are not allowed in the park. We now know that what is not allowed is not necessarily forbidden. He asks us where we are going and François, with his GPS, shows him the route we are planning to take. The guard replies "no, it's not possible to cross the park on a motorbike, I have a solution". Well, we didn't see that one coming! "The guy there on his motorbike can accompany you to the western exit of the park". We try to negotiate to go alone, but it's a waste of time. Obviously we have to pay our guardian, we understand that we cannot go without being accompanied. "How much?" asks François. Let's go for a negotiation that starts at 3000 Kenyan shillings. We won't manage to go under 2000 shillings. We finally give in, we have no choice.
Here we are in the park with our pilot fish who immediately starts to drive as fast as possible. A repeat of two days ago, except that it's not night. We're riding through the park with a bang when suddenly I see something come off François' bike in front of me. Shit, it's one of his petrol jerry cans, I jump on the brakes. I stop the bike a few metres after the canister. I rush to pick it up. What should I do with it now, no time to tie it up? I decide to put it in my jacket, equipped with my gloves and helmet, and quite irritated, I don't manage to open my jacket. At this moment an image crosses my mind, I risk being eaten by a lion or whatever to save a jerry can of one litre of petrol. Suddenly I find the pull cord, slip the canister into the jacket and set off again in a hurry. Fortunately François noticed that I wasn't following and he waited for me at the next junction. We set off in pursuit of our pilot fish, which had not waited for us. Imagine being in a park full of wild animals, where multiple tracks cross in all directions, riding our two hippos trying to follow a guy riding a motorbike weighing less than 100 kg on tracks he knows by heart. We see him from time to time in the distance, we think we are dreaming.
Suddenly two impalas cross the track right in front of us in a mad rush. No we don't have the pictures, we were trying to follow our opener without spreading out and it was already complicated enough. It goes on like that for about 30 km. Finally we arrive outside the park safe and sound. The guy has the nerve to ask me if I have a problem with the bike because it is not moving. Yes I do have a problem, with me on it we're well over 300kg, I can't make a hippo run like a Gazelle.
Afterwards, we say to ourselves that finally we passed without having to pay the entrance of the park which would have been much more expensive. And then adventure we wanted, adventure we got.
We arrive at a camp to spend the night. I'm proud to have managed to keep two 250 gram pots of yoghurt intact despite the shocks I suffered on the tracks. A family of Baboons arrives and I put the yoghurts in one of my over-suits for safety. Attracted by the spectacle of the females with their young clinging to their bellies, I lean on my suitcase while François shoots with his camera, I hear craaaak, I've just crushed the yoghurts! Here are the baboons avenged for our accusations of a few days ago
Next day
This morning we had a small mechanical check-up: a bent front rim, a ripped off fuel can holder, a dashboard that almost came off the bike, a deformed suitcase, all this after 2 800 km. We have to face the facts, if we want to reach Cape Town, we will have to spare our bikes and reduce the pace on the tracks. Even if it is exhilarating to ride faster, we adapt our driving.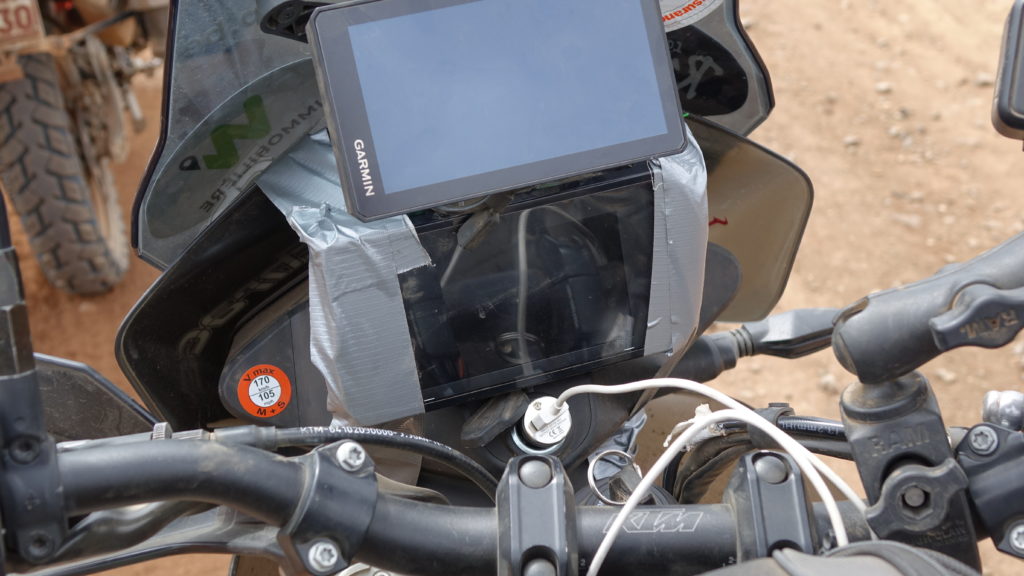 We go to the primary school in Kimana, where a pump has been installed by Water for All. We find the school but no trace of the pump. The school being closed, it is the end of the year holidays, it is not possible for us to obtain more information. We are disappointed, following the change of departure from Kenya to Egypt, it was the only water for all point that was still accessible to us.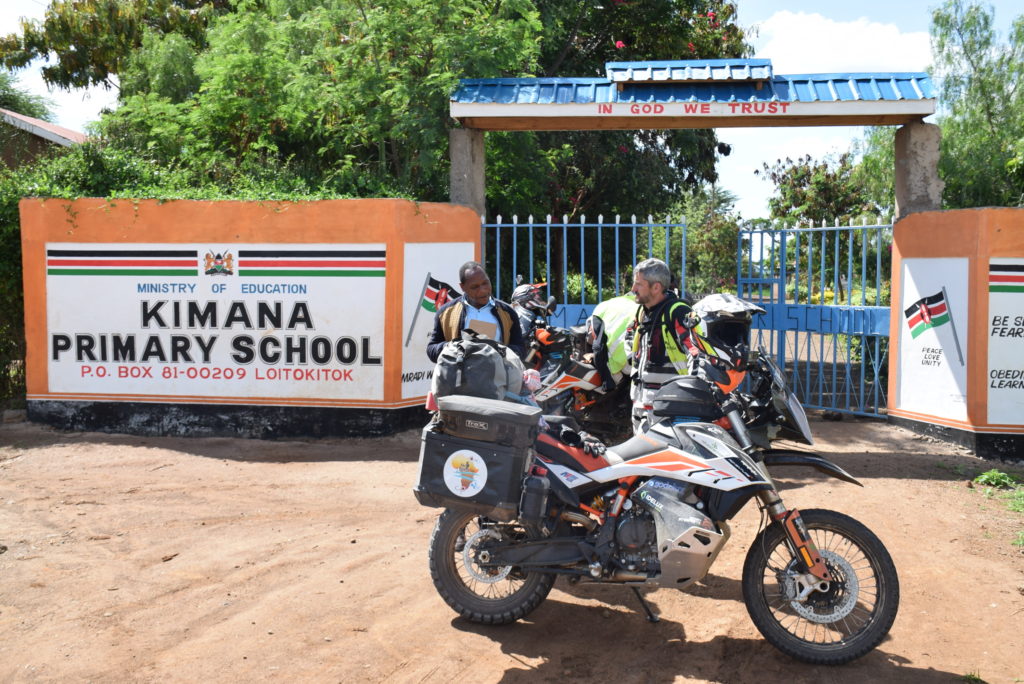 We reach Lake Jipe at the foot of the famous Kilimanjaro. We set up our tents in a superb camp with swimming pool, table and parasol, and restaurant. We take advantage of the restaurant, it's a nice change from our petrol stove. We will meet some more nice people. Tomorrow we leave Kenya for Tanzania.
What we will remember about Kenya
The warm welcome of the Kenyans, the countless thumbs up and smiles as we passed by, the immediate help when we were in trouble, the splendid landscapes. The traffic in the city, you have to live it to realize it (see video below).