Border to Burundi.
We speak French and we drive on the right in Burundi. It's good to speak French even if we notice that there are language differences. After a negative covid test in the pocket in 20 minutes for 15,00 $, we go to the next station located at 1 km to have the motorbikes customs books filled. This is done in 10 minutes. We continue to emigration and immigration. We check our e-visa folder, nothing for Burundi. If I didn't bring an e-visa it's because we don't need one. We confidently go to the Tanzanian emigration office, it's ok but we need a visa to enter Burundi. Strange, I haven't got one, I turn the package away, nothing. Shit, I must have screwed up and forgotten that one. The Burundian immigration official informs us that it is possible to apply for a transit visa, valid for three days, for $50.00 per person directly at the border. But then we have to go to the immigration office in Bujumbura to ask for an extension. Well, no choice.
I give my passport for inspection, the guy starts to smile, he calls two of his colleagues. He shows my passport to his colleagues and all three of them laugh. They are obviously playing with me, but why? That's it, the coin drops. To get the visa for Burundi, we had to go to the embassy in Brussels, I mandated a company to go to the embassy in our place with the passports and the visa is directly stuck in the passport. So these three guys are taking the piss out of me because I'm asking for a visa when I have one.
The boss takes us behind the counter and asks us to follow him into his office. I think to myself, this doesn't look good. He makes us sit down, settles behind his desk and after having asked us all the usual questions for a border crossing: where are you from? Where are you going? Where are you going to live? How long will you be staying? What is your job? Why do you want to enter the country? All these questions I have already had to answer to obtain each visa, but at each stage at the borders, they are asked over and over again. I come back to our immigration chief who tells us in a ceremonial tone: "I must inform you that you no longer need to apply for a transit visa, you are in order, you have already paid your visa. What a way to inform us. Everything is in order, we get up and leave the office.
This concludes our second customs clearance in less than two hours.
Burundi is ours, winding and hilly roads with lots of holes, usually filled with earth, very green landscape. We have a lot of fun on this road to Bujumbura, it reminds us of some roads in the Alps, it's nice.
After about 160 km, we stop just before entering the city to select a hotel on our GPS. François and I both noticed that as we drove along the road, wherever we looked, we saw nothing but misery and poverty. Many people walk along the road with jerry cans to fetch water, including children from the youngest to the oldest. Many others push bicycles with unimaginable loads up the steep slopes. The bicycle is the tool of transportation. In many places people start shouting and/or whistling as we pass. Some shout "money". It doesn't make you want to stop, it's quite scary.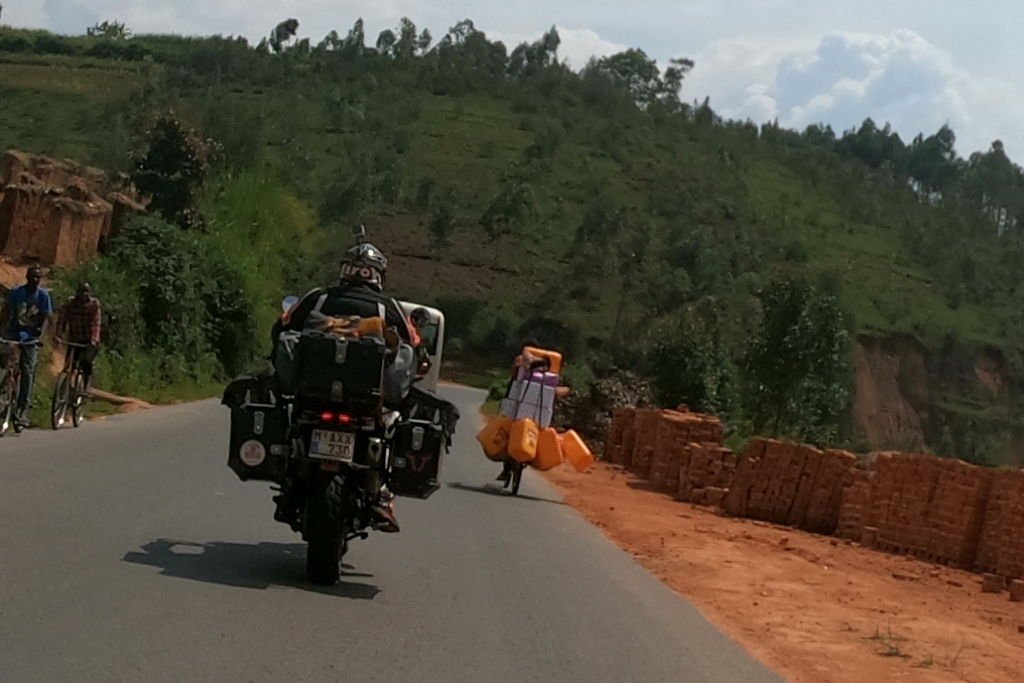 We choose a hotel recommended by Thierry, a friend of François who exports to Burundi. At the reception we meet a guy from Liège who has seen our bikes registered in Belgium. He has been coming to Bujumbura twice a year for almost 20 years and is friends with all the expats. While unloading the bike, I notice that there is a crack of two centimetres on the frames of my luggage. This will have to fixed before we can continue.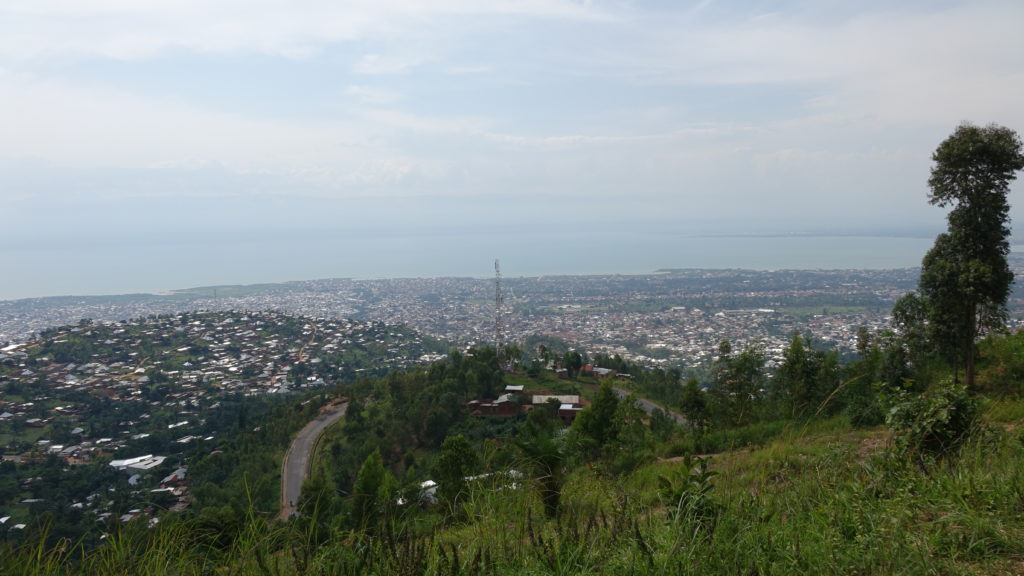 We came to Burundi to pick up two sets of new tyres and some engine oil to service the bikes. The next morning we set off in search of the tyres and oil. Our contact is Sacha in the company Savonor. We will find our delivery. We meet Sasha, a tall thin man who speaks French with a Russian accent.  Sacha is an aeronautical engineer, he arrived in Burundi about 20 years ago with Russian helicopters. He has never left. Today, he is married with children. He manages the fleet of vehicles of the company Savonor, which manufactures and delivers soap. We also meet Philippe who is Belgian and who comes to Sacha for a repair on his KTM 350 Enduro. Philippe has been living in Africa for 40 years. For him, it is inconceivable to return to Europe, too many rules and prohibitions. Here, he says, "we do what we want". We can't prove him wrong.  I ask Sacha where I can get my luggage frame repaired. "We have everything we need here in the workshop," he replies. My frame will be re-soldered in a jiffy and Sacha even comes to touch up the weld with paint. I ask him how much I owe him for this repair, and he answers: "nothing at all, I'm not a capitalist". Russian communism has left its mark, thank you Sacha.
We ask for information on how to get our tyres fitted. Philippe gives us an address, it's a Belgian who runs the business, it's Saturday and it won't be open until Monday. We decide to wait until Monday at the hotel.
The contrast between the hotel and the street is quite sharp. At the hotel, which has a green and quiet inner garden with a bar and restaurant, it seems to be "the place to be" for the wealthy of Bujumbura. Well-dressed couples parade around with a pretentious air, the bride and groom come here for the photo shoot. Outside the hotel many people are in misery. I saw a woman lying on the street with two small children. We are frequently approached by children for money. These poor children are dressed in dirty and often torn rags and probably have difficulty finding food. I'm not going to tell you a story, misery is everywhere in Africa. But here in Burundi more than 70 percent of the population lives below the poverty line. Because the country is small, the concentration of people per square metre is higher.
Sunday morning we do the maintenance of the bikes: oil change and oil filter. I also take the opportunity to straighten my crankcase protector in the African style, a few blows with a mallet will do the trick.
In the afternoon we go for a ride in Bujumbura. As we get on the bike I notice that my right luggage rack is also cracked, so we have to go to the welding shop again. We pass through a neighbourhood where there are huge villas protected by barbed wire and some by an armed guard perched on a watchtower. Again a huge contrast with the street.
On Monday we go to get our tyres fitted. When we arrive at Bandag, we ask if they can mount our tyres, it's OK. We take off our wheels. And the workers start to try to dismount our tyres with tyre changers although they have specific machines to do it. I ask them to dismount them with the machines to avoid damaging the rims. The answer brings me back down to earth. It's been several days since there was only one phase left on the electrical network, it's not possible to use the machines. I ask them: "Don't you have a generator? "No, we don't have customers every day. It is not profitable to invest in a generator. Five people are in the company every day and there are no customers every day. I don't understand something.
Finally our wheels are loaded in a 4×4 towards a competitor who has a generator. I ask if the power failures are frequent: yes it happens, we have a partnership with another tyre fitter, when we have a problem he helps us and vice versa. This famous African mutual aid. In Europe, every company tries to take market share from its competitors to increase its turnover.
I show that I need to have my luggage rack welded, one of the guys says: "I can go and weld it for you if you take the part apart". Which I do immediately. He drives off with my part and comes back 15 minutes later, my rack is fixed. If that's not service. The wheels come back, we reassemble them and we are ready to leave. Well, almost, we have to come back to have my rear tyre reversed as it was mounted upside down.
On our way to Tanzania. We are happy to leave Burundi and the miserable atmosphere that we are experiencing.
We drive for miles along Lake Tanganyika with great views. Sometimes on a track, sometimes on the remains of a road. Sometimes a large part of the road has collapsed into the lake or a mudslide covers the road.
We will stop at the Palm Beach Hotel, yes it's the name that made us curious. The hotel is located along the lake with a terrace overlooking it. We will witness the most incredible sunset of our lives.
We had chosen to have breakfast with the room, the next morning we sit down at the table, we are brought a plate whose contents seem to have already been chewed. Despite this unappetizing aspect, it is very good and it holds the body. On our way to the border with Tanzania.