The border crossing will be completed in just one hour, including a quick covid test. The customs buildings are located in a basin sheltered from the wind. When we get back on the bikes, which are still in the shade, the dashboard shows 43°C. This is a very special feeling, at this temperature everything is hotter than our body temperature: the air, the gloves, the helmet, … We feel like we are using heated handles. The overheated air that circulates on my lips while riding gives me the impression to open the oven door of the kitchen equipped to take out the Sunday roast after the aperitif, while forgetting to move back the head. It's rather unpleasant. Fortunately, after half an hour's drive the temperature drops back below 40 degrees, so it's more bearable.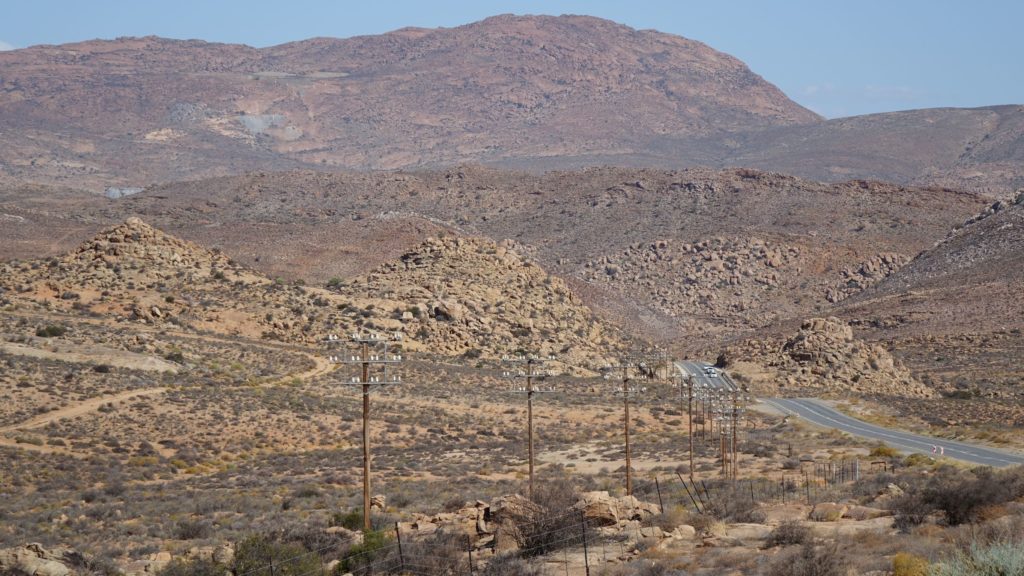 Next day
We continue through these beautiful landscapes. At the end of the day, we stop in a campsite to set up our tents. It is very windy. The temperature drops below 20°C. I am probably used to the high temperatures, I am shivering. I put on two jumpers and finish with my hat. From one place to another the temperatures can be quite different.
Next day
When we start, we are still in the desert, the landscape becomes greener and greener. Soon we pass through vineyards and lemon groves.
We stop at Mérindol Manor in Riebeek, Vincent's lodge. Vincent is Belgian, originally from Orsainfaing. François met Vincent in 2019 in Belgium when he went to have his fruit pressed at Civajus. It was while talking about our project to cross Africa that Vincent told him that he owned a lodge in South Africa and that he lived there. François had promised him to come and see hi
We did not announce ourselves, we arrive unexpectedly without knowing if Vincent will be there. Luckily, it's Vincent who comes to open the gate for us, he remembers very well this conversation with François at Civajus. Vincent invites us in and seats us on the terrace in front of the pool. He is in the company of a Luxembourgish client who is a former colleague from his banking days. So the conversation is in French, which is more comfortable, especially for François and me. The subject turns around our trip, but also on Vincent's background. At the beginning, he was employed in a bank and had the opportunity to work in several countries. He also travelled with his wife to Africa several times. He reduced his working hours as a bank employee and started to run a bed and breakfast and then invested with a partner in Civajus. One day, the couple decided to leave Belgium to run a lodge in Africa. They did a lot of research before finding the right place for them. The idea was to settle in a place where it was possible to find a village atmosphere where people knew each other and were not too far from transport and an airport. And that's how Vincent ended up in South Africa. Even if the last two years have been a bit more complicated, he feels good here, 310 days of sunshine a year helps. Vincent will show us around the property which is a haven of peace. www.Merindolmanor.com
After a great time at Vincent's house, with a nice white wine and lots of tips on what to do and see in the area, we say goodbye to our host. We go to the "Africa Overlander" campsite found by Victor. Here we meet the owners Dunkan and his wife.
Dunkan is English, she is Spanish. At the age of 17 Dunkan left the Isle of White and set off on his first journey. He spent a decade travelling before returning to England to attend university. He continued his travels thereafter. They have now been in South Africa for 10 years. In addition to the campsite, Dunkan renovates old vehicles that he then exports to Europe: 4×4 Toyota BJ-40, Volkswagen combi T1 and T2, Volkswagen Beetle… We leave our motorbikes at Dunkan's place and he sends them to Europe by boat in a container with other vehicles.
Next day
It will be laundry day and rest in the camp for François and me, mussels and chips and nostalgia day for Victor in CapeTown.
Next day
We prepare to leave for Cape Aguillas. This morning we leave Victor, he will fly back tomorrow morning. It was a beautiful moment shared together. We will meet again in Belgium.
We first drive through a mountainous region on a winding road that delights us. The road is in excellent condition, as it often is in South Africa. We are inland. We drive for miles through huge areas of recently mown cereal crops. After about 250 km we reach the coast. The wind is fresh and iodized, I love this feeling of freshness, it's often my favourite moments on the bike, like when we leave at sunrise on Sunday morning in summer. The azure blue of the Indian Ocean contrasted by the foamy white waves, which crash with a dull roar on the rocky beachfront is a mesmerizing sight. The road winds for several kilometres, a few metres from the ocean, without any visual obstacles, and it is downright exhilarating.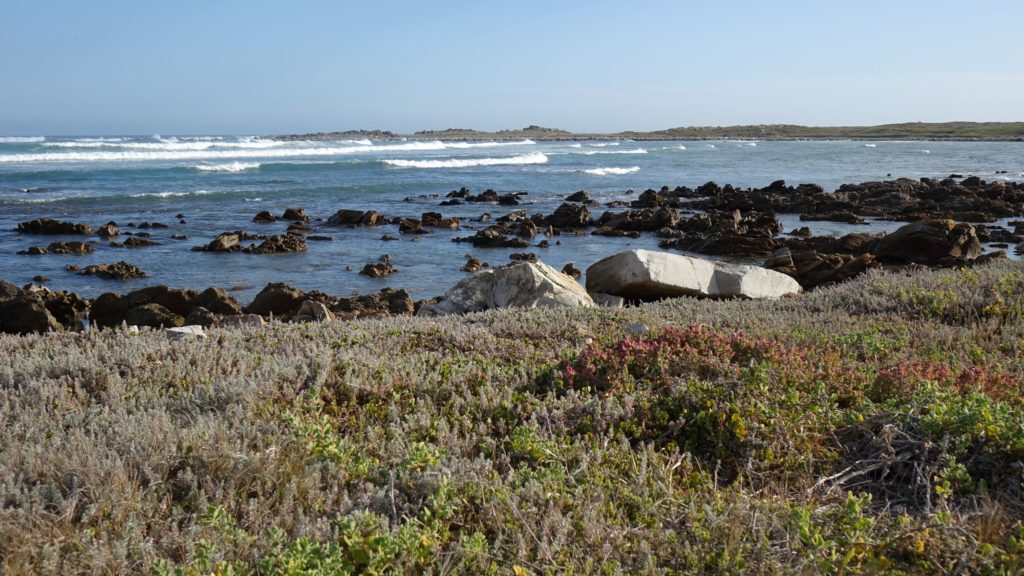 We reach the campsite which is located 50 meters from the ocean front. We quickly set up our tents, then enjoy a can of beer on a bench facing the ocean. Two pools of ocean water have been built on the ocean front, they fill up at every high tide. Just two elderly ladies come to bathe in them. When they come out and pass two meters away from us, I ask them if the water was not too cold: I don't even get a glance in return. I had vaguely heard that salt water baths had some virtues, but to make you deaf is a discovery. Despite this little setback, we decide to stay two nights in this magical place.
The next day we put on our walking boots and head for the southernmost point of the African continent, Cape Agulhas. This is where the warm waters of the Indian Ocean meet the cold waters of the Atlantic Ocean.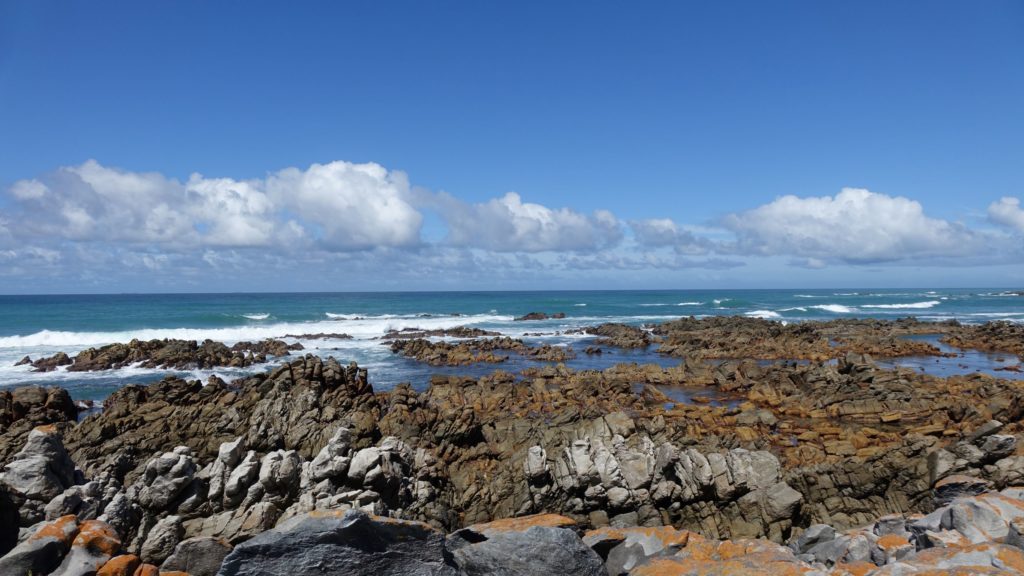 In the afternoon we visit the lighthouse and return with the bikes to the southernmost point to take some pictures. At the end of the day we go for a beer on the ocean front and watch the waves crashing on the edge of the pool. Looking at this spectacle, I say to myself that it would be a shame not to go swimming in this pool. So I put on my underwear and decided to go for a swim. I go down into the water, it is a bit cool, but not cold. I swim to the end where the waves hit the wall and fill the pool. I put my hands on the low wall as I lay in the water and watch, fascinated, as the waves roll in one after the other. It's amazing, I feel like I'm one with nature. The amount of water I get on my head is sometimes surprising. I end up going back to the bench to finish my beer.
Next day
We leave the Cape of Needles, destination the Cape of Good Hope. 280 km of road, we think we can reach the cape quite quickly. The first part of the journey is inland and then we head for the coast. We pass through several towns along the coast, which takes us much longer than we thought. On the way out of one town, we pass a huge shanty town, where the wind blows strongly, and it will never leave us. To fight against the gusts of wind, and especially to avoid being blown away by oncoming vehicles, we have to tilt our bikes against the wind. At times we could be mistaken for crabs. A few kilometres further on, we ride along the ocean again. The wind blows from the ocean towards the land, carrying with it the spray that looks more and more like fog. The salt in the spray soon smears our motorbike glasses. We are obliged, while continuing to fight against the wind, to wipe them regularly with our gloves. After this somewhat epic passage, we cross a town again. We are not far from Cape Good Hope, but it is getting late and it will soon be dark. We decide to go to the nearest campsite. This one is arranged in terraces facing the ocean, which gives us a 180° view on the bay and the mountains opposite. We are delighted with this wonderful view.
At bedtime, the wind is still present and will not abate during the night. At times the tent structure bends under the pressure of the wind, then it violently straightens out, stretching the canvas with a sharp snap. It will be a sleepless night, impossible to sleep.
In the morning we can't see the magnificent view with the same eyes. I manage to make coffee with our stove despite the wind. We have breakfast and leave the campsite in the direction of the Cape of Good Hope.
We drive along the coast on a beautiful road. It is terraced over the ocean, the surface is perfect, it is winding and bordered by a low stone wall. The blue of the ocean is still incredible. I can't help but stop regularly to take pictures, whereas usually on such a road, I'm just swinging the bike from one side to the other without caring about the landscape.
We arrive at the entrance to the park which allows access to the cape. The landscape changes dramatically. Low vegetation tinged with different greens, reddish moss, and dried black shrubs. All this against the azure blue background of the ocean, which we can see at times on either side of the landscape.
We are almost there. In front of us, in the middle of the road, stands an ostrich that doesn't seem to want to let us pass. An ostrich a few meters away from us in the wild, it's not a small bird, right? We know that it can be dangerous. We manage to get around it without scaring it.
Here we are at the end of our journey "the Cape of Good Hope". We first went to the heights at the foot of the lighthouse to admire the view, then along the ocean to take this picture of our bikes and the sign indicating this mythical place. It was a bit complicated to get this picture without anyone appearing on it, but our perseverance rewarded us. It's a special emotion to have arrived there, we concretize the realization of a dream which immediately ends… and leaves the place to others… it also means that we are going to go back home, to see our relatives and to hug them.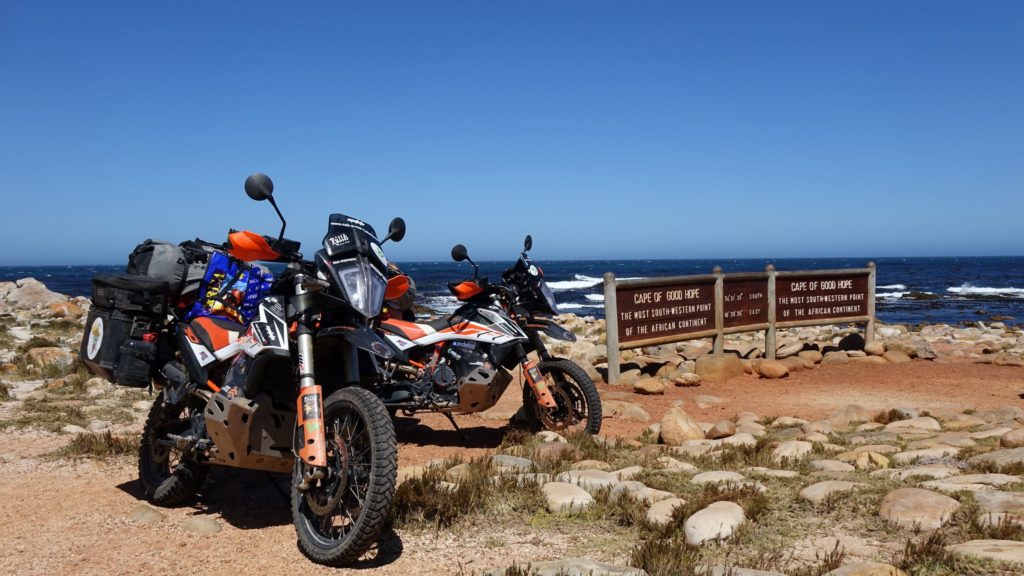 But before that, we still have to enjoy 4 days on site.
We stop at a campsite located 300 m from the ocean. After setting up our tents, we go to the edge of the ocean, the sun is starting to set. We don't stay long as the sun's rays reflecting on the ocean are unbearable.
The next day we spend a good part of the morning watching the soothing spectacle of surfers on the ocean. It makes me want to try it, nothing to rent on this beach, it will be for another time. We decide to stay two days at the same campsite.
Early afternoon we drive to Cape Town to see Table Mountain. It is not possible to reach its summit by motorbike. We take the road to the mountain opposite. From here we have a great view of the city, which allows us to take pictures of the city and Table Mountain.
On the way back we drive along the ocean again on a winding road on the side of a hill. It is still a treat for the eyes.
Next day
We go along the ocean, to a place where it is possible to observe penguins. They are obviously comical when they walk. They are used to seeing humans and are not at all shy. We immortalize a few specimens.
We stop at Jack's to sit on the terrace facing the ocean and have a drink. We meet the owner Laura who is originally from England. She used to live in London with her husband where they worked a lot with high positions, high salaries and low quality of life. The weekend was a time for them to relax and really enjoy life. Until her husband had to work at weekends too. That was the last straw. They decided to change their lives and leave London. To do this, they wrote an advertisement for a job abroad in the English newspaper "The Times", which appeared all over the world. This was of course before the internet. They got replies from different countries. It was a response from Kenya that caught their attention. They went to run a lodge in Kenya for a while. Then one day her husband's former company, British Airways, contacted him again for a job, which he accepted. They returned to England. Laura soon realised that her mind had changed and that it was no longer possible for her to live in London. Her only wish was to return to Africa. Luckily, a position identical to her husband's new job was available in South Africa. After four months they were back in Africa. They have now lived in Africa for 24 years. Laura gave us this message: "after the trip you have just made, your mind, your personality has changed, be indulgent with those you will find when you return, who have remained the same.
Next day
Towards the west coast, we drive along mountainous roads with exceptional landscapes by the ocean. Then the coast becomes flatter. In the distance I see kite sails. I stand on the footrests to see where the beach is. We head towards the beach where the kitesurfers are. When we arrive at the small car park, it's a bit of a rush, two ambulances are about to leave for the hospital. There has been a kitesurfing accident. The ambulances are gone, we park our bikes and we walk a few meters on the beach to admire the show. It's very windy and the kite surfers are having a great time. When the kite catches the wind well, they rise more than 20 meters above the ocean. One of the guys comes up to us and says that this sport gives you a high dose of adrenaline and that it is very exhilarating. We have no doubt about it, I would like to try it too: according to him, it takes two days to learn if you are comfortable with a snowboard. Maybe one day? We ride on, the landscape becomes bland and the wind very strong. We ride with the bike permanently tilted because it is so windy. The pressure on the neck to keep the head straight is important. After a good hour at this speed, we see no point in continuing in this direction. Finally we go back towards Cape Town.
The next day we meet Paul and Cathy in the port of Capetown. Paul and Cathy are waiting for their 4X4 which will arrive soon by boat. They are preparing for a three month trip to Africa. They have organised themselves to arrive before we leave. Seeing each other in Capetown is really nice. We take the opportunity to go to the restaurant and spend a great afternoon together. Have a good trip.
Next day
Last day in Africa, tomorrow we fly. We prepare ourselves slowly. First a mid-morning nap. A bit of writing for me. A little food shopping, sorting out the luggage between what we leave in the trunks of the bike and what we take with us.
In the early evening we meet Stefan. He was born in South Africa to German parents and lived there until he was 19. Since then he has lived in Germany. He is just finishing a 7 month trip. At first he took care of his mother, who had been living in South Africa for 40 years. She is no longer able to live alone. He had to deal with the return to Germany, the move and the sale of the family house. Quite a lot of stress. Then his girlfriend came to join him. They travelled in a 4X4 with a roof tent, which was also a wonderful experience for them. His girlfriend has already returned to Germany, and he is preparing to return as well. This trip has changed him, he wants to work in a profession that gives more meaning to his life and that is closer to the deep values that revealed themselves to him during this trip. We share our meal around the barbecue and spend the evening together. What a beautiful meeting on this last African evening.
Two years ago, his brother was to be the first person to attempt to cross Africa from Cairo to Cape Town by paramotor in six months. He was to follow in a car with a team of professional cameramen. Everything was ready, they were in Africa to start when all the borders closed one after the other because of the covid. The project is not abandoned, it is for the moment frozen, the main partner being a paramotor wing manufacturer, he remains interested. We hope that they will be able to realize this project soon. We will stay in touch to follow this adventure.
Africa is a wonderful continent, with 14,000 km covered (13,951 to be precise), we have only seen a very small part of it. Behind these splendid sceneries, many people in Africa are suffering terribly, and our European way of life contributes greatly to their suffering.
It was great, we are delighted to have shared these moments with you. Thank you for all your comments, see you soon