For our trans-African journey it is absolutely necessary to carry additional parts. The splendid SW Motech parts has taken our mounts.
Two expansion water-tight 15 liters over-suitcases.
Footrest kits with large-sized foot area,  adjustable in height and tilt.

Crankcase guard also covering the fuel tank.

Handlebar risers

of 20 mm.
GPS support.
 The handlebar risers combined with the adjustable footrests allow a very comfortable standing position. It will ride fast on the tracks ! The over-suitcases offer 30 liters of additional storage without cluttering the load too much.
Centerstand.
Side stand enlarger.

Two x 2 liters jerry cans.

A Rotopax 6.6 liters jerry can

.
A tank bag.
The central stand allows a certain comfort during the bivouacs to access the interior of the suitcases. It will also be an effective ally when changing tires.
The additional 10.6 litres of fuel carried in the three jerry cans will be our safety reserve . The total amount of fully loaded on-board petrol will be brought to 30.6 litres, which should allow a range of almost 600 km.
The tank bag will contain our cameras to allow quick and easy access .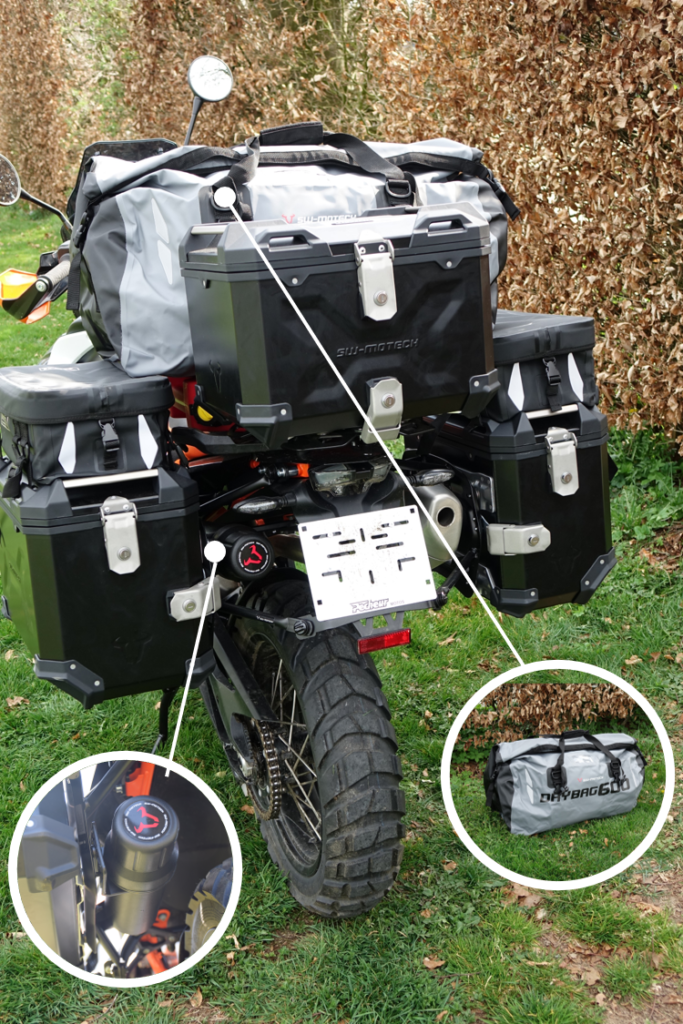 A tool box placed behind the left case

.

A 60 liters waterproof bag.

Two side aluminium cases and a top case with a total capacity of 150 liters.
We think that we have covered all of the extra accessories …….  Time will tell !