Réveillon
This morning we cross the border between Kenya and Tanzania. A new experience for us. It starts with a bang, we need a PCR test less than 72 hours old. Well OK, where can we get one? In Nairobi or Mombassa. Roughly 200 kilometres away. The people in charge of this health control confirm that we have to present ourselves to them with a negative PCR test result. We told them that this would not be possible, the labs were too far away. We have a solution, they tell us. In view of our previous experiences we remain wary. You have to register on the website, the address of which is posted on the wall, and we can do a quick test on the spot. Like at the airport in Nairobi, we take out our mobile phones and we can't connect to the website. Kindly the two people will do the encoding with us from their mobile phones which will cost us 2000 Kenyan shillings or about 16,00 € for the two tests. We go up to a room to take the samples, half an hour later we have the results, it's OK. The next step is Kenyan emigration, a whole series of information to be given including the e-visa made before our departure, a good half hour goes by. Next step is Tanzanian immigration, more or less the same thing, a good half hour. Then the customs to declare our bikes: it takes about three quarters of an hour, all dressed as cosmonauts, we are dripping in our motorbike clothes. We still have two steps to go, change money and take out insurance for each bike. Another 40 minutes to change the money and another 40 minutes for the insurance. Finally we pass without any particular problem in half a day. We realise how lucky we are to be able to travel freely in Europe without all these formalities, except for the COVID at the moment.
After the border, we go to a town in the hope of finding some atmosphere for New Year's Eve. The place where we camp is anything but welcoming and it's hot as hell. While parking the bikes, François notices that my luggage rack is not fixed properly anymore. On closer inspection, 4 nuts are sheared off flush. Impossible to continue without repair. I take a blow of bamboo, we are Friday December 31, the day before a weekend, it will be complicated to find someone to repair. Before settling in this camp we had been in a first camp which does not exist anymore, but where there was a multitude of 4X4 toyota in repair. We try our luck at this place. The mechanic is no longer there, we can come back tomorrow at 10am. Ha good but it is a day offy! No problem come tomorrow for 10H00.
The next day at 10:00 am I'm at the station, with my eyes middle closed and a bit muddy. The mechanic is not there yet. He will arrive quickly and will extract the 4 sheared bolts by welding bolts directly on the remaining pieces so as to be able to unscrew the whole without any trouble. All this in a scandal and a t-shirt without any mask to protect his eyes, under a blazing sun, 35 degrees. This guy saves our trip. I go back to the camp, we load the bikes and we leave for Kilimanjaro. A short day of riding, we are tired. We arrive at a camp at the foot of Kilimanjaro in the early afternoon.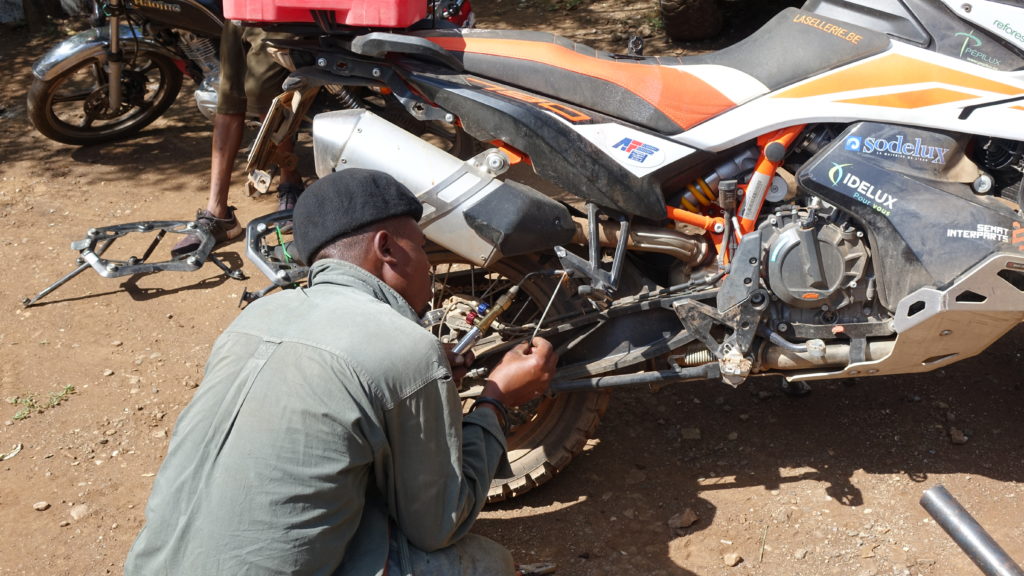 Next day
We start the tour of Kilimanjaro, the landscapes are beautiful, lots of cultivation which gives a green landscape. Kilimanjaro is clear and we can admire it. On the whole, Tanzanians are less welcoming and less expressive than Kenyans. However, everything goes well.
Next day – first mechanical alert
We start by watching the sunrise on the mountain opposite the camp. After a huge breakfast we prepare to leave the camp. Just before we start, we notice abnormal marks on the front wheel of François' bike. These traces make us think of a loss of fork or brake oil. We inspect the rim thoroughly without finding the origin of the leak. To be sure, we carry out a tactile and olfactory inspection: we quickly come to the conclusion that it is not a mechanical problem: just the camp's dog that has found this place to mark its territory…. After washing our hands a bit more than usual, we leave for Easy Lake which we reach at the end of the day. We can't find a campsite. We end up in a lodge. 200$ a night. This is not in our budget, there is nothing within 50 minutes of the trail and it's going to get dark. Finally we get a dingy room in the drivers building for 80$. Knowing that this is more or less the average salary in Tanzania, we get ripped off.
Next Day
We set off for a day's ride along the lake. The track is very good, we sometimes hit between 100 and 110 km/h. However, we have to be very careful because there are many fords. And even if the waterways are dry, caution is required. It is very hot.
At mid-day we arrive at a crossing where the track crosses a stream, not dried up this one. We had barely stopped to inspect the crossing before we set off, when a man came shouting and put a long wooden pole across the crossing to act as a barrier. We stand there for a few minutes to watch him. He keeps shouting in Swaelli. He is a bit scary so we decide to look for another place to cross the river.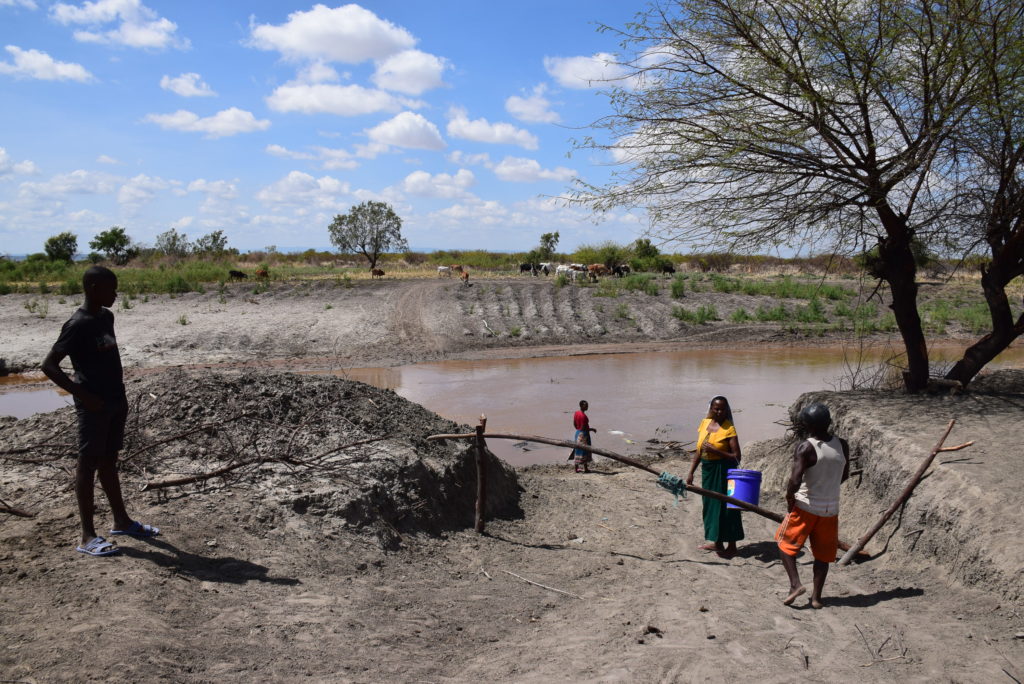 The banks overhang the river by 2 to 3 metres, so we have to find a less steep spot. François quickly finds a place that seems accessible. He goes to probe it on foot, the level of the water arrives slightly above the knee. We cross both of them without any particular difficulty. We still have to climb the embankment to reach the bank, and that's where things get complicated. We are inside a meander and the slope is only made of alluvium forming a soil as loose as fine sand. François sets off to climb the slope, after three metres his rear wheel sinks and he can't stop his bike going down. We immediately understand that it will not be possible to climb the embankment in this way. We decide to unload his bike and take it up the hill, him walking alongside and me pushing behind. We are under a blazing sun, the temperature is over 35 degrees. The slightest effort quickly exhausts us. We manage to get the bike onto the bank. It's a first victory but it's not over yet. François is out of breath and I am suffering too. We still have to hoist the 70 kg of luggage and put it back on the bike. After a short break, we unloaded my bike and we prepare to mount it.
A Maasai warrior arrives with his herd of cows and crosses the river. A cow gets stuck in the river and cannot get out of the mud. Despite the help of the Massai warrior, it remains stuck. We decide to help her. I grab the straps I use to tie my luggage and we head towards the warrior and his cow. He speaks only Swahili, and we use gestures to explain to him how to tie the strap around the cow's horns. Once the strap is attached, François and I pull with all our strength while the warrior pulls the cow by the tail. After several pulling efforts we manage to pull it out of the mud and water. We take some time to breathe and then mount Matata on the bank, this time with two more arms. We finish by re-attaching the luggage to the bikes. In the end we spent about two hours to cross the river and we lost a lot of energy. We spend another three hours on the tracks. At times we had the impression of being in the desert.
That night was particularly bad: in fact we didn't realise it, but during this trying day we were dehydrated. We suffered from muscle cramps throughout the night.
Next day
The next morning we were completely exhausted and had a hard time driving the 150 km to Mwanza on the shores of Lake Victoria. The view on the lake is magnificent, as soon as we arrive, we set up our tents and sleep all afternoon.
Next day on the way to the border with Burundi…