The boxes finally arrived, it was not without difficulty we finally waited a week. I assure you that we learned: on the one hand to relativize and on the other hand to do nothing. And with a little perseverance, we must admit, we managed to excel in both areas. I think that there is no chance, we learned patience and disconnection, I have to… I have to… I go fast… During this week, we had the opportunity to meet and share with different travelers: German, French, Swiss, Scots. Some in backpacker, others in 4X4 vehicles or truck with container. Many of them have already had multiple travel experiences. This allowed us to get information about border crossings or places to see.
And so this Thursday, December 16, to manage to extract the boxes from the airport, we had to spend the whole day, from 9:00 am until 6:00 pm. We walked about 4 km, made 25 desks, some of them 5 times, and went up and down countless steps. We understand why most travelers leave their vehicles on the African continent rather than repatriate them each time.
Friday, December 18, opening of the boxes and reassembling, we are cheerful. End of the afternoon, the bikes are back on the road, we leave for a test ride without luggage. The program includes a short ride in Nairobi to adapt to the left-hand drive and especially to the Kenyan way of driving. We are now ready to start this trip.
We thank Jungle Junction, our golden prison, Chris for sharing his experience of the trip and his wise advice. Diana, his wife for the delicious meals.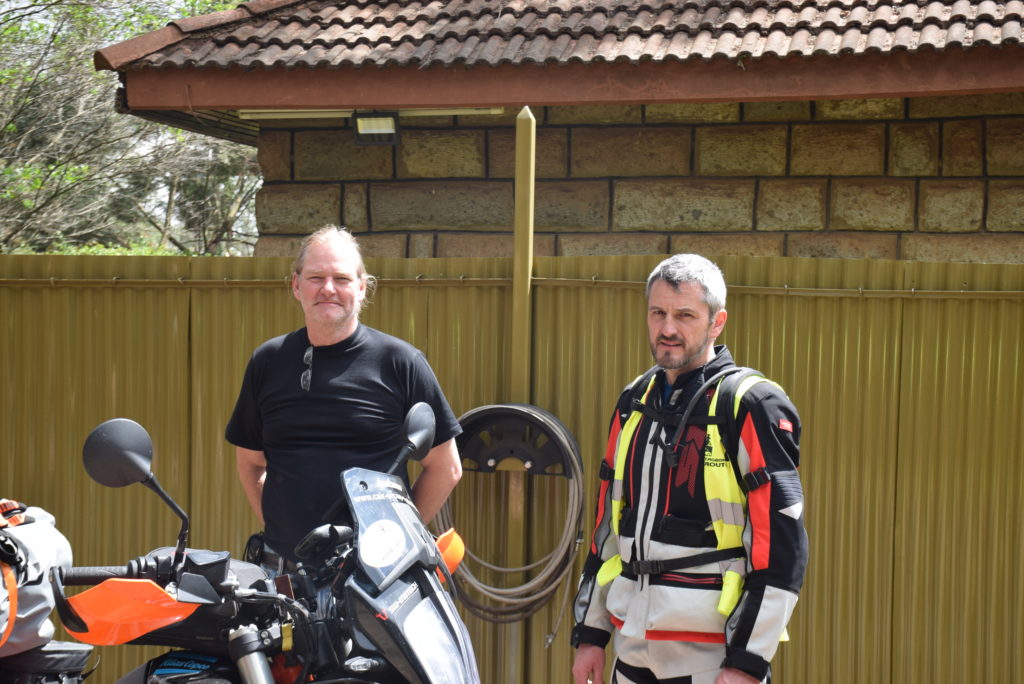 Saturday 19 in the morning, breakfast swallowed, we load the bikes, it is not possible that we took all this mess! After a few adjustments of the loading, we are ready to start the adventure. A last picture with Chris and we start to ride. Ouch, the first meters are confusing. With the load, a good 70 kilos, the front train seems very light, the feeling is not very pleasant. We have the impression to ride a hippopotamus.
After a few kilometers we start to find our marks and feel more comfortable with the bike. Driving in traffic requires constant attention. Anything can happen at any time. The width of the motorcycles equipped with the suitcases is not an asset. Short video to give you an idea
As soon as we make a stop, people come to meet us to look at the bikes, take pictures and know who we are. With a few exceptions, the motorcycles in Kenya are 150 cm³ made in China. Hakuna and Matata are like monsters. People are friendly, smiling, curious, they all welcome us in Kenya. A person we met told us, you have to live each day as if tomorrow did not exist. Not easy to apply this in Europe but to meditate. They immediately offer us help if they see that we are in trouble.
This day I met a young child who was seeing a white man for the first time. He was both curious and a little scared, looking at me with big eyes. I spoke to him to put him at ease, he responded and smiled. It was a special situation.
We spent our first night camping, like every night since we were in Africa we heard music. In Africa, life is a party and we have to celebrate it.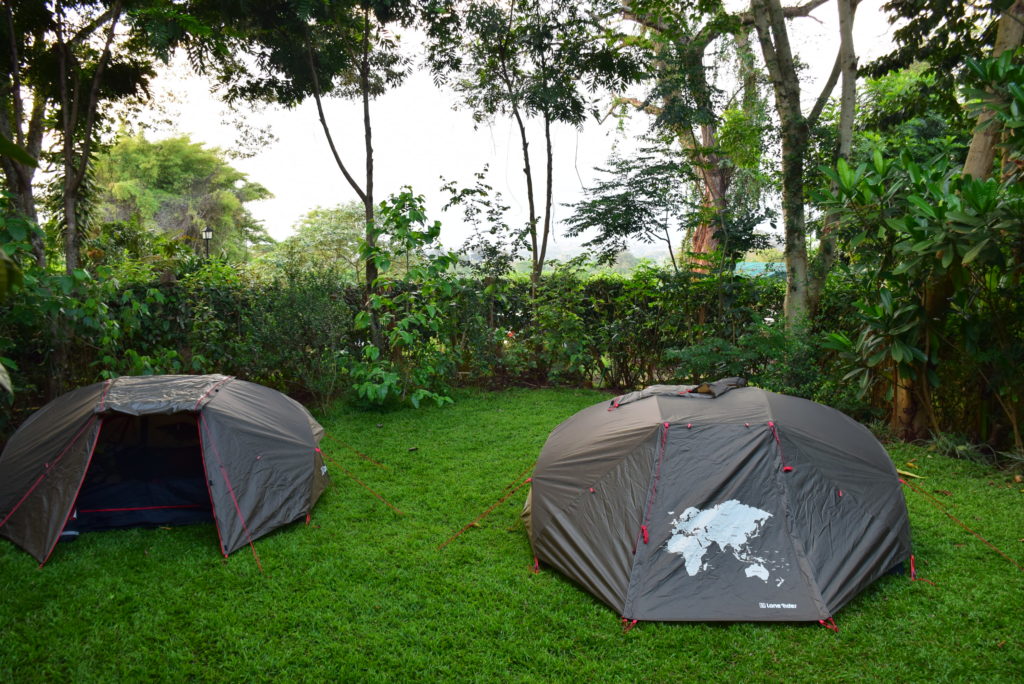 Sunday December 20th we head towards Mount Kenya. The roads become more winding and hilly with an abundant and green vegetation. At each stop our motorcycles are the center of interest, it is often the same questions that come back: What is the maximum speed that the motorcycle can reach? What is the displacement? How many gears does it have? How much does it cost? These exchanges are always accompanied by smiles, words of welcome and encouragement for our journey. This Sunday evening we pitch the tent in a magnificent laikipia place tented camp. A warm welcome from Purity, our host for this evening. We finally stay two nights there.
We get to know Marco, this unusual traveler who has made the tour of Africa alone on a motorcycle (His instagram account: marco.motorcycle.world.journey), he is accompanied by his best friend Andi, and his companion Philomena. We feel a very strong bond of friendship between Marco and Andy. After 25 years of working 16 hours a day, as he approaches 50, Marco decides to change his life. He sells his company and starts a new life in Ghana. He fell in love with the country and started a collection of goods in Germany to help Ghanaians in need. He imported three containers of toys, bicycles and other items which he distributed himself on the spot. This is not enough for Marco, he also sponsors the education of the children and goes as far as to prepare their future by setting up a company on the spot in order to create employment for these young people when their schooling is finished. His goal is to give them hope (song hope). Wawwww, what an immense pleasure to share a moment with these beautiful people whose human values are diametrically opposed to the ambient egoism which reigns in our good old western world. We spent a pleasant evening together around a succulent meal prepared by Philoména. There are encounters that leave an indelible mark like a red iron, these are part of it.
Marco, Andy, Philoména vous nous redonnez Marco, Andy, Philomena you give us hope in human beings! Bigs kiss to you.
I forgot, mythical passage of the equator, where we meet a compatriot who works at the Belgian embassy in Nairobi. A little hello to her.