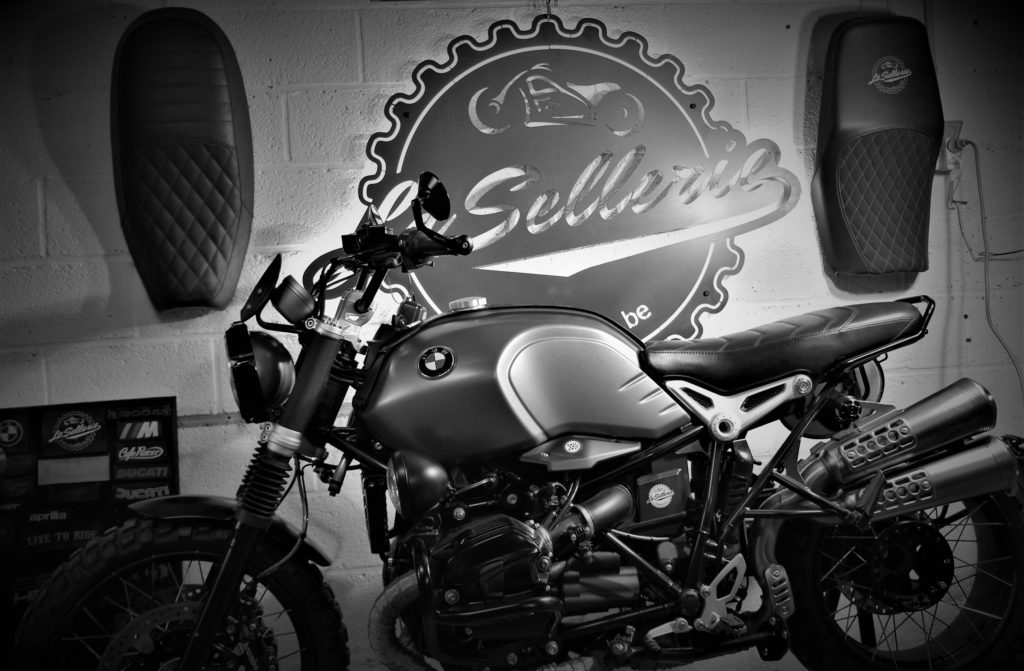 Finally, we met Arnaud at his home, in his workshop. When our website went online, Arnaud had contacted us to offer his services. Appointment made on a Saturday morning at 10.00 am. Garage door wide open, as we approached we only had eyes for this magnificent nine T personalised with taste by Arnaud. That touch of leather on the tank and the handles. This yellow light that reminds us of France before the 90s. A beautiful harmony emanates from this bike. Make no mistake, if the beautiful one is a showcase for Arnaud and his talent, it is also his travel companion.
Arnaud offers us the coffee, we settle down around a piece of furniture with castors, at the prescribed distance, and off we go, our common passion plays its part. Arnaud is not stingy with words, stories and anecdotes: he tells us how he joined the biker family.
Before getting closer to the middle of the two wheels, Arnaud's image of the biker was that of the collective unconscious, that of the bad boy dressed in black leather, tattooed, badly shaved with long and greasy hair. At thirty years old, however, he felt the need to ride a two-wheeler. Not yet having the right licence, he turns to a 125cc scooter that he can drive with his car licence. He will have the chance to share the discovery of this new passion with his father.
Without him knowing it yet, his life takes a new trajectory. 
At that time Arnaud ran a shop and worked as an independent upholsterer, his profession being a training course. He found the saddle of his vespa uncomfortable and unattractive. It won't take him any more to start his first saddle transformation. It was a radical one, with the lively colours of the dolcevita. When he returned to his dealer, he was seduced by the quality and originality of Arnaud's work, and the first orders for customised saddles followed. By word of mouth, Arnaud occasionally makes one or the other saddle.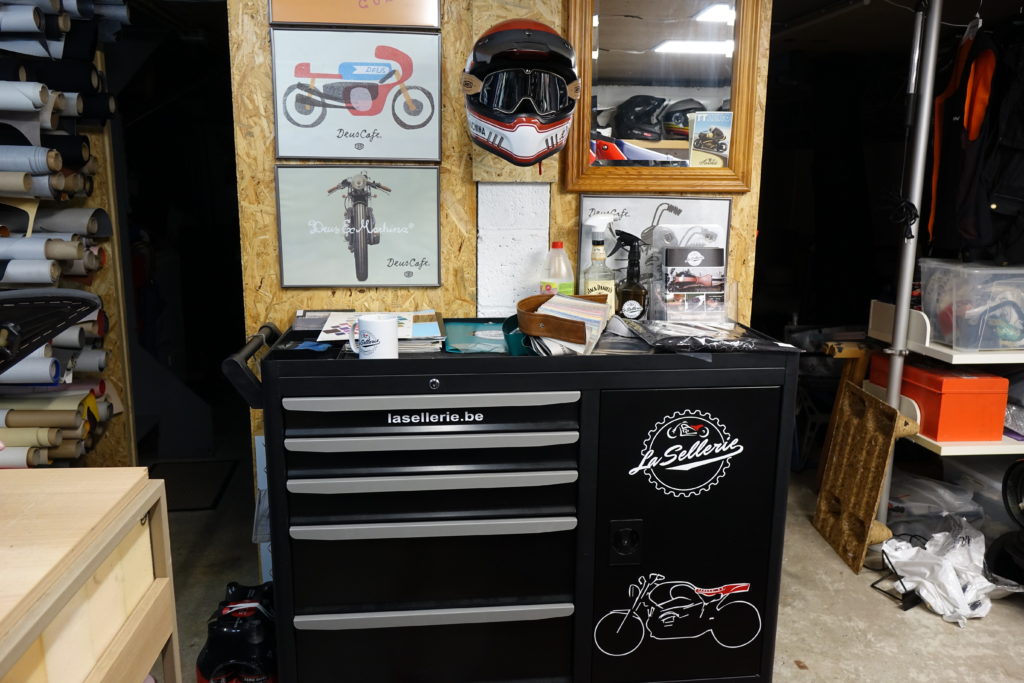 One day he is in Waterloo with two hours to kill, he decides to go around the various dealerships to present his work as a saddler and leave his contact details. Soon the BMW dealer calls him in for a particular motorbike project. From the success of this project was born a relationship of trust with the dealership, which today continues to offer saddles made by Arnaud. Like what, he says, "sometimes it's all about nothing much". Just go to the right place at the right time.
Since then, Arnaud has developed his clientele. He makes all types of saddles and modifications according to the comfort needs and aesthetic desires of his clients. He thus enters the world of motorcycling, a world in which he finds the true motorcycling spirit, far from the cliché of yesteryear: the motorcycling community makes a clean sweep of all differences, in this environment, relationships of trust are naturally established.
From scooter to the Africa Twin.
In the meantime, Arnaud has passed his motorbike licence. His favourite style of motorbike is the café racer and the roadster. Choppers and other Harleys, he is not too keen on them, even if he likes to make saddles, more aesthetic than comfortable, for motorcyclists passionate about this brand. Today, he is curious to discover off-road riding and has found a superb Africa Twin in the colours of HRC, the legendary Honda racing department. As I wrote previously, with age, the practice evolves but the passion remains intact. François and I hope to have the pleasure to carve a few kils in the tracks with Arnaud and his beautiful.
Arnaud is not stingy with explanations about his work. Whether you are looking for comfort, retro or avant-garde style, a work of art or simply a reduction in seat height to be more comfortable on your bike, know that there are many possibilities to modify a saddle: for Arnaud, nothing is impossible, it's all a question of choice, he will be very good advice to guide you in your search.
Sincerely, if you are thinking of having your saddle reworked, don't hesitate to meet Arnaud. You won't be disappointed: there are encounters that make a difference, far beyond the technical and professional aspects.