The not so young, of which we are (perhaps?) beginning to be a part, have all known "The Kawasaki Jadoul Motorsport dealership"
Dealer in Rochefort for many years during which he was also the head of a speed team, John Jadoul has always enjoyed preparing and developing bikes with his team.
"Making everything ourselves has always been our philosophy, our trademark. We have created and adapted many parts according to the needs of our customers: manufacture of aluminium tanks, quick-fit wheel kits, preparation and modification of shock absorbers, creation of kits to lower motorbikes for smaller people, etc. It is therefore quite natural that, in parallel with the Kawasaki dealership, a technical department, called "TECHRACE", was created. "We've evolved for several years with these two structures," explains John.
The key year
2008 was a pivotal year in many ways. The time had come to think about expanding the concession and investing in a brand new facility. The preliminary project is on track, a new adventure is on the horizon. But alas, a painful event came to a halt. John's wife, who was heavily involved in the business, became seriously ill and died.
John had a big rethink. After careful consideration, he decided to stop the new factory project and to definitively close the Kawasaki dealership in favour of maintaining and developing what is ultimately the soul of the Jadoul factory: the TECHRACE technical department.
One thing never happens by itself, that year Kawasaki decides to stop investing in racing. Not only did the brand stop motorbike GP, but more importantly it ceased all assistance with endurance teams. Without the manufacturer's help, it is impossible for Jadoul to financially maintain a team in the world endurance championship. Despite this, the team still has the opportunity to run two endurance races at Francorchamps where it makes a name for itself by taking a victory ahead of the official BMW team present to prepare for the next world championship.
Two weeks later, BMW contacted John Jadoul. What followed was a rich four-year cooperation during which TECHRACE assisted BMW in the World Championship and prestigious events in Japan, Qatar, the 24 Hours of Le Mans and the 24 Hours of Bol d'Or. The team will take a victory in front of CERT, yes, the world endurance champion team in 2021 with our national driver Xavier Simeon.
Recognition of d'Ohlins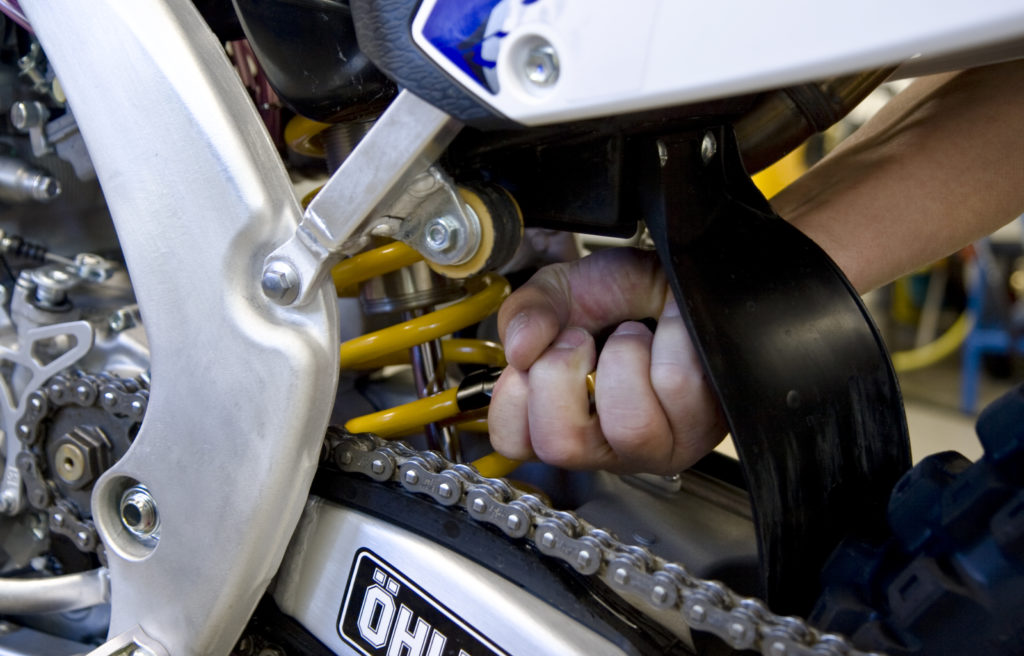 TECHRACE will be approached and selected by Ohlins to become the exclusive importer for Belgium, thanks to its experience acquired over the years and its know-how in the preparation of shock absorbers. TECHRACE will also be entrusted with the Ohlins warranty service.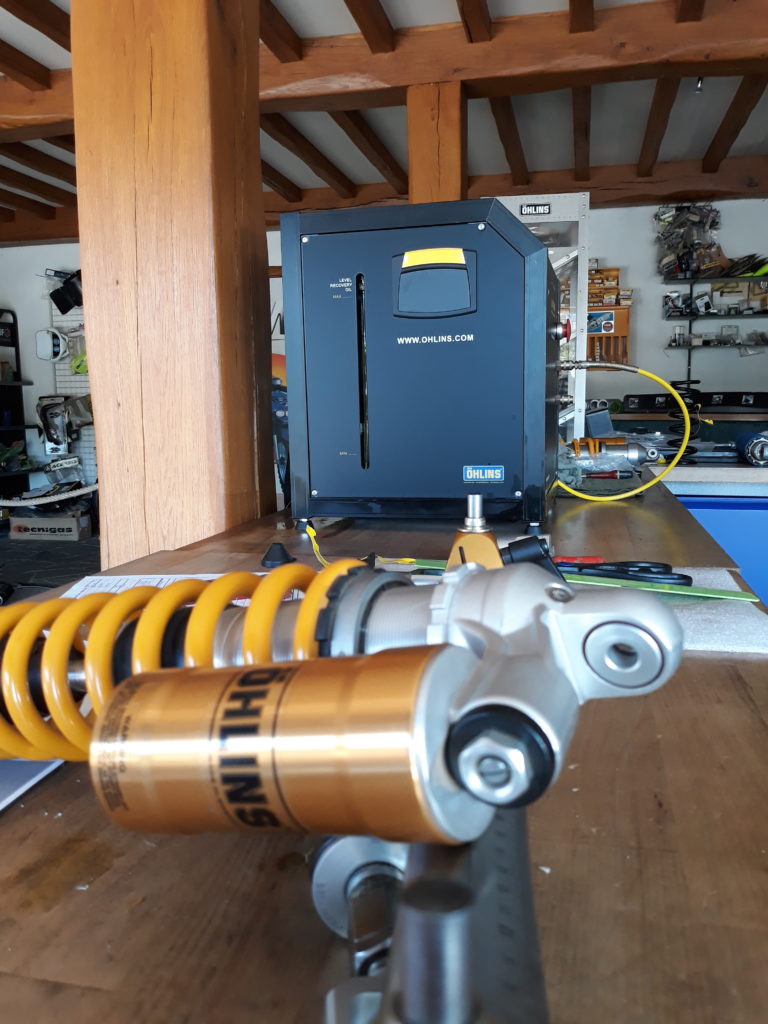 TECHRACE then experienced an explosion in its activities. Equipped with the latest technology to configure, maintain and test shock absorbers, TECHRACE gained the trust of many dealers and tuners who entrusted it with the repair and maintenance of their customers' shock absorbers. TECHRACE also handles race service contracts for motorbike teams or events such as the Superbiker in Mettet, or mountain bike events such as the Bikepark LooseFeest in Malmedy. TECHRACE's expertise is not limited to motorbikes, but also includes mountain bikes and more unusual projects such as a ski chair or electric scooters.
For the professional pilott and private rider
As John points out, shock tuning is very often a key factor in achieving the desired results while ensuring rider safety. At TECHRACE we give as much time and importance to the professional rider who is looking for pure performance, as to the private rider who wants to improve the comfort of his two-wheeler.
To remain successful in the field of shock absorbers, you have to forget the empirical techniques of yesteryear. As electronics has also invaded this field, it is necessary to constantly maintain one's knowledge through continuous training. The arrival of Nathan, who recently graduated with a master's degree in mechatronics, is no accident. Today, the development of a damper requires almost as much analysis and preparation time as the assembly time. Even the oils and greases used in dampers today have become high-tech products.
A shock absorber serviced at TECHRACE will regain its original efficiency and when a shock absorber is made to a specific technical request, TECHRACE makes it a point of honour to ensure that it works in perfect compliance with the specifications.
At over 60 years of age, John remains passionate about his work: he will take the time to explain what he does, how he does it and why he does it, in a calm and didactic way so that you understand how your damper works. As he says, there is always a solution, there is no technical limit, the only limit being the customer's budget.
Why did TECHRACE want to support two zozos who want to cross Africa by motorbike?
Because on the one hand, the preparation of raid bikes is becoming increasingly important at TECHRACE. But that's not all: John and my adventure companion François have, in the past, participated in several raids in Africa together as well as in other unlikely off-road organisations. It is therefore out of friendship, affinity for motorbike raids and love of the African continent that TECHRACE supports this beautiful Cair-O-Cap project.
Africa and "The tracks of Kédougou "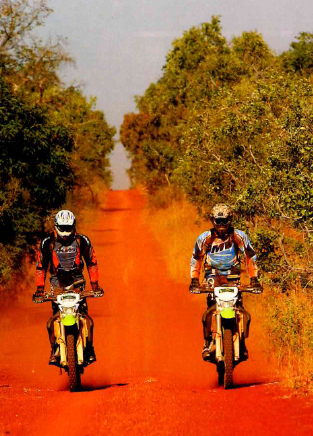 Indeed, Africa and John have a long history together. Together with his friend Paul Smet, they set up "Les pistes de Kédougou". What is it? Since the beginning of the year 2000, John and Paul have been organising motorbike raids in Africa, in SENEGAL, in the west of MALI and in Guinea Conakry. Needless to say, with 20 years of experience, the organisation is well established. They offer a 6 to 8 day all-inclusive raid, including bivouacs, petrol and motorbike. Do not hesitate to consult their website for all the information on the next raid planned in January 2022. http://lespistesdekedougou.be
John's driving force, what motivates him to continue organising the raids after so many years is simply the human aspect. It is the richness of meeting people from different cultures and backgrounds. As he likes to say, "A life is to be lived and what better way than by travelling and meeting people to open your mind and enjoy moments of fulfilment!
This is how we ended up with custom-made suspensions
Let the Raid begin!!!